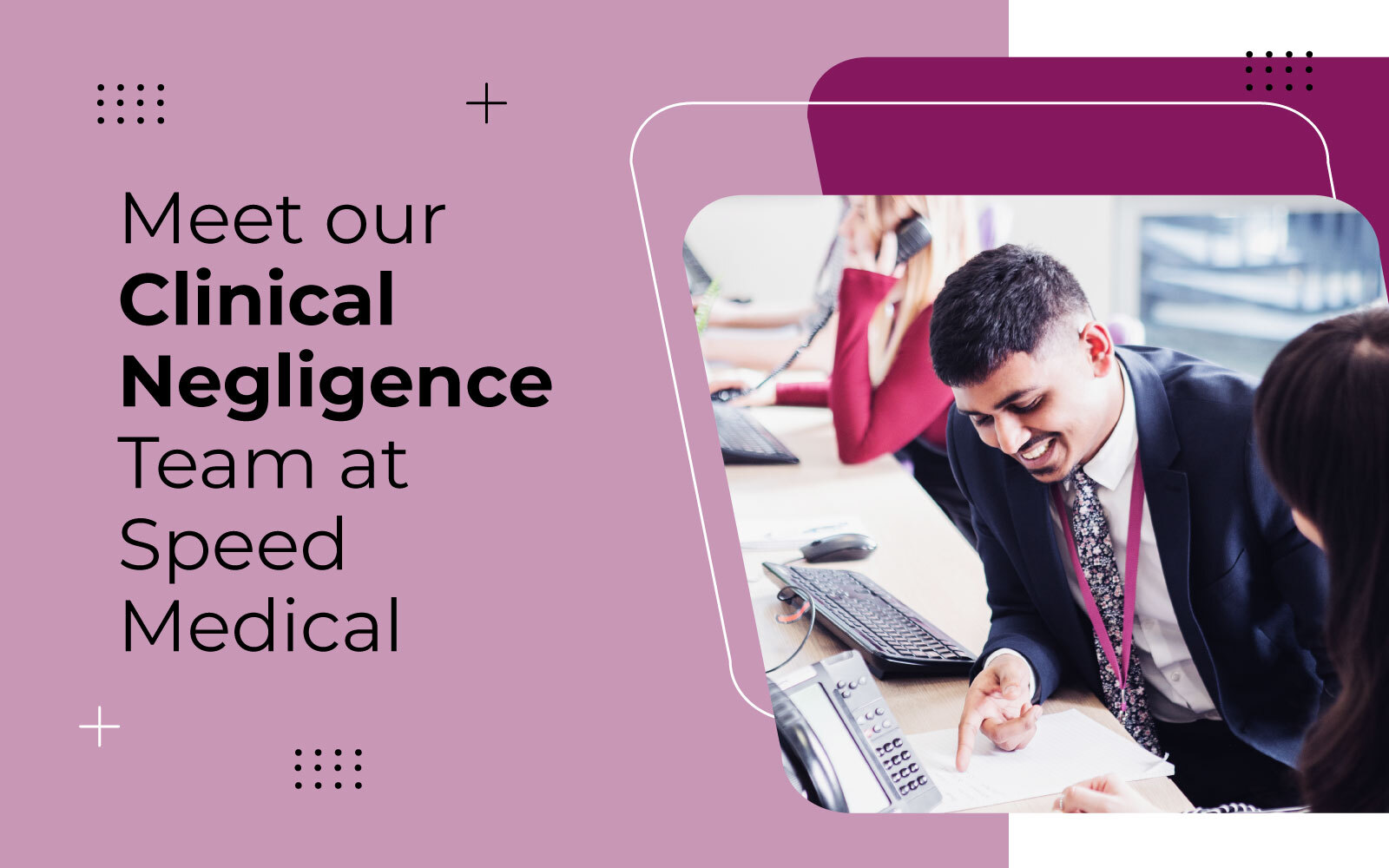 14 Jul 2023
Meet the Clinical Negligence Team at Speed Medical
Speed Medical pride themselves on their industry leading approach to their clinical negligence services. By utilising their in-house medical and legal expertise, Speed are able to provide the highest quality reports for any and all types of clinical negligence cases that are delivered through a nationwide panel of over 2000 experts and further supported by their Clinical Advisory Board.
We caught up with Zoey Welch, clinical negligence and serious injury team manager to find out what makes their approach stand out from the competition, how they ensure each client is fully satisfied, and the impact their case handlers have on each customer.
What is the role of your Clinical Advisory Board and how important is it to your clinical negligence services?
They are a key component of the services we offer; they are there to support my team with any medical queries and conduct clinical reviews of the reports we provide to ensure they are of a high quality; they also support our experts if needed.
All your customers and clients are assigned a case handler – can you tell us a little about a case handler's role within the company and how they impact the day-to-day running of things?
The case handler is essential, they play a huge part in the process.  Solicitors often struggle when dealing with medical agencies as often multiple individuals are working files which causes confusion and delays.  At Speed Medical the case handler is the solicitor's point of contact, and they work the case from start to finish and know the cases and the history behind the claim so feel involved and want to support the solicitor and the claimant.  They build excellent relationships with the solicitors, experts, and clients.  I firmly believe that they are a big part of the success of the team and the continued growth we have seen over the recent years, the feedback is always excellent, and solicitors regularly state how good it is to have that one person who truly knows their cases, we strive to have a positive relationship.
Besides using dedicated case handlers, what else sets you and your clinical negligence services apart from the rest?
The CN team is made up of highly skilled individuals who have been in the industry for many years, and the knowledge they hold is exceptional.  One of the business development managers is a qualified CN lawyer who supports the team from a legal perspective, so we always have excellent support.  We can also change the standard process to ensure a more bespoke approach is in place to ensure we are meeting the solicitors' needs. The products we offer vary and can cover all the solicitors' requirements, including GP screening reports at a fixed fee, Consultant screening reports also at a fixed fee, which is very competitive along with the usual BOD/Causation and Condition & Prognosis reports. We can reach out to our sister companies at any time, which is a great asset to have and ensures we have everything we need to obtain the evidence to get the best outcome for the solicitor and the clients.
Have you seen an increase in clinical negligence cases in recent years, and if so, why do you think that is?
Yes, most definitely, we have also seen the cases become more complex over time and the needs of the solicitors changing.  I believe that there are a few elements that have impacted this, but the two key one's for me are, one, the public are far more aware than ever and pursue potential wrongdoing more robustly, and secondly, the increase we have seen  at Speed I will say is down to the service we provide from sales team, commercial offerings and the case handling, we do everything we can to support the solicitors and claimants and this has not gone unnoticed.
There have been some legal changes around lower value clinical negligence cases in recent months – has this impacted you at all?
Not at present but we do know this is being challenged and that the conversation around fixed fees is being discussed, when the time comes, we will be ready and have a wealth of expertise and experts to manage any changes that may be needed.
Speed is bigger and busier than ever - how do you ensure that all your clients and customers continue feeling taken care of? 
Ensuring we are staffed correctly to meet our clients' needs is monitored closely, case handlers and the volume of clients they deal with are also monitored to ensure they can continue to provide exceptional service.  We continually review and look at processes to see how we can improve to ensure we are as quick and efficient as possible whilst maintaining a high caliber of work. When required we also invest in new staff and IT changes.
How does the next 12 months look for the clin neg team? Are there any big changes happening?
I would say we will be very busy as there are some exciting new opportunities in the pipeline which will see my team continue to grow. We will be busy ensuring we are properly staffed and that they are all trained to support this whilst maintaining the excellent relationships we have built and welcoming new solicitors to our Clinical Negligence Team here at Speed.
Speed Medical offer a wide range of clinical negligence services including Fixed Fee GP Screening Reports, Fixed Fee Consultant Screening Reports, Breach of Duty Reports, Causation Reports, Condition and Prognosis Reports, and Fixed Fee Medical Records Collection & Pagination. They also provide rehabilitation, mental health services, and diagnostic and surgical procedures. For more information on any of Speed Medical's services, please get in touch.