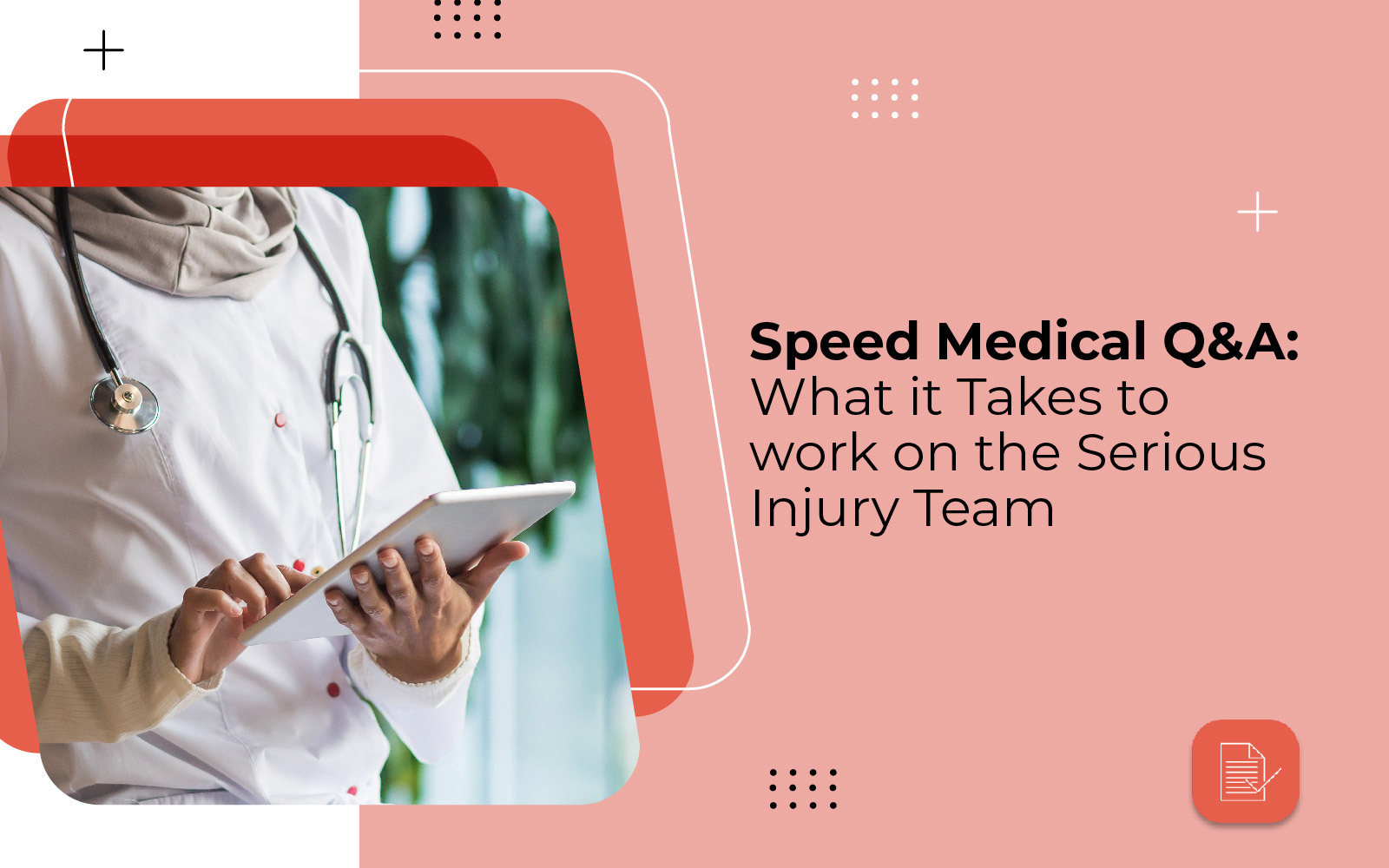 24 Jul 2023
Speed Medical Q&A: What it Takes to Work on the Serious Injury Team
Speed Medical is all too aware of the devastating impact serious injury cases can have, which is why they have put extensive resources into their serious injury service. Speed believes a three-pronged approach is key and so provides a dedicated serious injury team, personal case handlers, and experienced medical experts to deal with these complex and often sensitive cases.
We sat down with Zoey Welch, serious injury team manager to discuss how they developed a team dedicated solely to working with serious injury and multi-track cases, why their process works so well, and what their plans are for the next 12 months.
Can you walk us through the client/customer journey from the minute Speed is instructed on a serious injury case?
A typical case for the serious injury team would be the solicitor requiring we assist with all aspects of the case. From obtaining consent from the client to obtaining all medical records, on receipt we would then provide expert nomination, we will always endeavor to offer 3 nominations of experts in the required specialism along with indicative fees so that the solicitor can select the most effective expert based on qualification, cost and availability.
Once the solicitor selects the expert, we would then Instruct the expert and arrange any appointments and monitor receipt of the report. Our team will follow up with all activity undertaken by Speed, taking the administrative stress away from the solicitor. At every stage we keep the solicitor and client up to date with regular emails, meaning they are kept informed of all case progressions and milestones.
Is there such thing as a 'typical' case, or is there a lot of variety?
Every case is different from the experts needed to the requirements of the reports and appointments. We deal with numerous case types including Road Traffic Accidents, Public Liability Claims, Employment Liability as just a few examples.  They can be minor injuries to very Complex cases which could have life limiting factors or sadly the clients may even be deceased.  The reports and the quality of the evidence we provide can have a huge impact on the client's settlement.
Most serious injury cases are complex and must require a great deal of sensitivity from the Speed team – how do you ensure team members display compassion and sympathy while remaining professional? Is it a hard balance to strike? 
As a team I'm proud to say that we all care about the clients we are helping and feel that what we do helps them financially and mentally, so we are very invested! We always do the best for our customers and clients, ensuring they are working with the most suitable experts and driving to conclude cases as quickly as we can as we know the process of making a claim can also be distressing. The team will always take the time to listen and support as best we can, but we also ensure we are clear about what we can deliver and in what timeframe ensuring we can deliver what we promise.
Has it taken time to perfect your processes to make sure all customers and clients have a seamless experience, or were there bumps along the road to get you to that point?
Of course, with any process there are bumps along the road and we have worked hard adjusting the processes along the way, even now we continue to look for ways to streamline the process while still delivering a quality service.  One on the things I believe we do best a Speed is offering a tailored approach to meet the needs the solicitor, so not everything is set in stone, and we can adjust when needed. The best decision was providing a case handling service as the solicitors find that having that one point of contact rather than numerous administrators working on a case ensures the case runs smoothly and the case handler as a deeper knowledge of the case.
Have you seen an increase in serious injury cases in recent years, and if so, why do you think that is?
Volumes have increased and we continue to attract new business and a variety number of new customers have been onboarded because of a recommendation provided by a colleague or they have moved solicitors, the responses and feedback we get are extremely positive from new and existing customers.
How does the next 12 months look for the serious injury team? Are there any big changes happening or developments coming up in the near future?
As our reputation grows, so will our team! Plans are in place to expand our Serious Injury team and new work is already in the pipeline. To ensure we can maintain our fantastic levels of service and quality, we will be investing in further recruitment and training over the next year. We will look for experienced case handlers from within the business who have gained experience through our robust in-house training programmes, as well as new team members who have experience in the industry to join the team and the Speed Family. Watch this space!
Speed Medical's dedicated serious injury team is made up of the most experienced staff members so you can rest assured that in every case you instruct will receive the highest level of specialist knowledge. Speed knows the devastating impact these cases can have, which is why they have developed a service that makes things as simple as possible but also treats every client with the care and sensitivity they deserve.
Speed Medical offers a complete range of services including rehabilitation, mental health services, and diagnostic and surgical procedures as well as Medico legal reporting. For more information on any of Speed Medical's services, please get in touch.