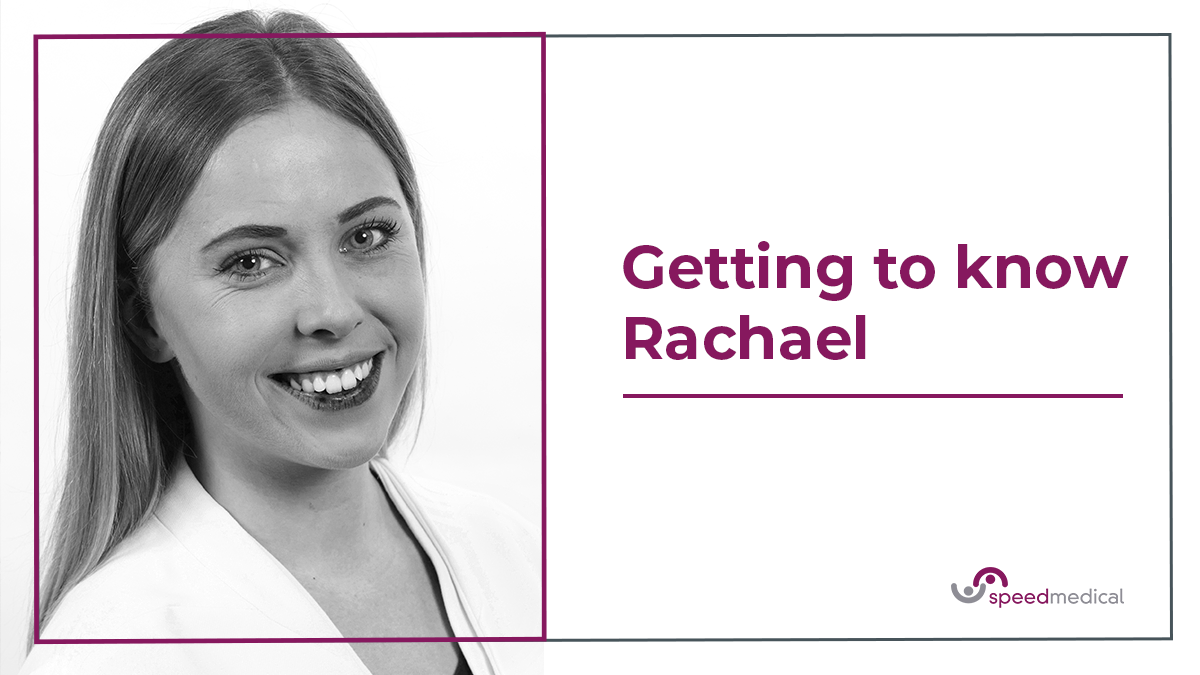 10 May 2022
Meet the Team: Rachael, Expert Liaison Team Leader
Rachael has been with Speed Medical for 13 years and has made impressive professional growth and development throughout her career with us. We're excited to introduce Rachael in her role as Expert Liaison Team Leader, and the fantastic work she does for Speed, as well as a brilliant job motivating and guiding her team.

We sat down with Rachael to get a bit of insight about her time at Speed, and what her new job entails.
Can you tell us a little about your past roles and how you joined the Speed team?
I've been working at Speed Medical since I was 16. Whilst studying at college and then at university worked in the out of hours department booking clinic appointments and making physio triage calls. I graduated from university with a degree in Psychology and applied for a full-time position to continue my career at Speed. 13 years later and I'm still here!
What does an average day look like for you?
There is never an average day on the Expert Liaison team which is what makes the job so interesting and rewarding. We have a large variety of work streams to complete each day, each week, and each month, so being organised is key. My first task is to run reports to show volumes of emails, recruitment cases etc. I'll then ensure that all my staff are motivated and ready for the day and that they know what needs to be completed. I check team inboxes to make sure that any priority work is picked up, and will sometimes need to change daily to meet the new priority deadlines. I always make sure that I'm available for my team members should they need any support.
Can you tell us a little bit about the culture about Speed Medical?
I would say that the main visible cultures of Speed medical are employee engagement and opportunities for growth. Over the years, Speed Medical have heavily invested in ensuring that their staff are engaged and happy. Having initiatives such as 'Your Voice', Employee of the Month rewards, and our intranet system Speedway has been a great way to improve staff satisfaction and engagement as it helps instill a fun working environment.
What's your favourite aspect of the job so far?
I love the variety of work, and the fact that each week is different. As the Expert Liaison department, we manage the expert panel for every service we provide to our customers from medical assessments and reporting to rehabilitation, management referrals to further treatments. This means we have a greater understanding of not only Speed Medical but the Handl group as a whole, and how we positively impact the industries we serve. I enjoy being able to explore how our expert panel can open doors of opportunity for us to offer different services we maybe haven't yet offered. Being an outgoing individual, building relationships and liaising with highly valued medical experts gives me great job satisfaction.
What do you think you've added to the company and your role so far?
As I have always worked in the Expert Liaison department, I have a lot of specific and relevant experience in building relationships with experts, recruitment, and cost negotiations and I've been able to use this to my advantage when training and supporting each team member. Being able to say that I have been in their shoes and have experienced the highs and lows of the role (more specifically, being told no when trying to recruit experts or negotiate fees!) has helped develop a strong, motivated and high-quality team. I also believe I've added value by being a good communicator. Being able to provide constructive feedback to each staff member in the right way has resulted in improved customer service, and my team respect me which I am very grateful for.
What are your goals for the next 12 months? Do you have any big changes in mind?
To continue leading and growing an established and effective team.
Do you have any personal goals for the next year?
To gain further insight and knowledge on the role of the Expert Liaison Manager. I'd also like to have further involvement in higher level detail and month end report writing.