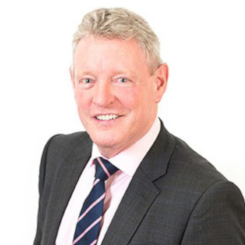 17 Jan 2017
Introducing Our Latest Team Member
Don Hughan began working as a key account manager for us this month and assumes responsibility for a specific number of key legal accounts. He's been tasked with ensuring their smooth running, the strengthening of relationships and the maximisation of mutual benefits.
Immediately prior to joining Speed, he worked with Doctors Chambers. Over 12 years he moved up the ranks from the role of business development and account manager to national accounts director – a position he was promoted into in 2011. Before working with Doctors Chambers, Don had a brief spell working in sales for Micrah Services. And before that, he'd enjoyed a varied career working in sales roles for the RAC; spending 11 years as a financial advisor with the likes of TSB, GRE, Royal Life and Schroders; selling tobacco for Gallaher Ltd; and even working for two years with the Inland Revenue as a Tax officer.
Ever the optimist, we're sure Don will be a great addition to the team. Don searches out the positive in every situation and faces each challenge in the same professional manner – striving for mutual benefit and the bolstering of trust and respect all round; an approach he has worked hard to pass on to his children.
Born in Crosby, Liverpool, in 1956, Don spent his early childhood living in Turkey before returning to Merseyside and attending Waterloo Grammar School, Kirkby College and Liverpool Polytechnic where, for a short time, he studied Law. He now lives in Maghull, Liverpool, with his wife, two of his four children, and a Tibetan Terrier called Max. He is a keen golfer, passionate Liverpool FC supporter and connoisseur of fine (and not so fine) lagers.
Contact a member of our sales team today on 0844 4129 395 or email sales@speedmedical.com