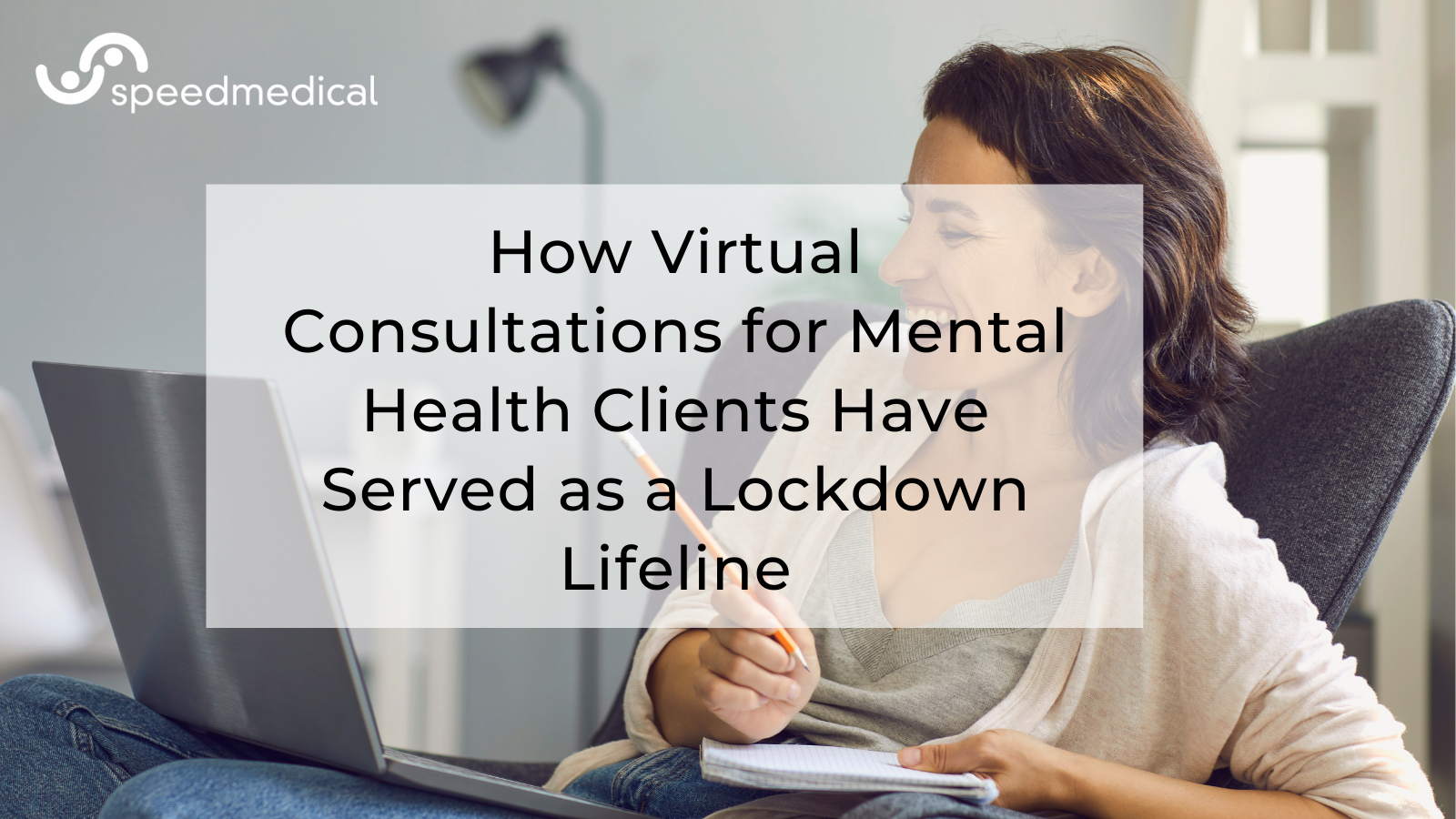 29 Jan 2021
How Virtual Consultations for Mental Health Clients Have Served as a Lockdown Lifeline
It's imperative that individuals who are more susceptible to mental health issues aren't forgotten during a time of national lockdown. Whilst we all come to terms and reshape our immediate lives according to gargantuan measures introduced to curb the rate of human-to-human infection during a global pandemic - and therein protect us all - those most vulnerable members of society aren't always the most visible. Or indeed, the most reported.
Which is why online consultations between individuals requiring support and medical experts operating in the field of psychology are seen as a virtual lifeline for those who desperately need one-on-one help and advice.
Conversely, many would argue that the overriding need was even greater (and potentially covering a far broader demographic), given the unprecedented chapter in our lives we're all living through right now. And the emotional challenges it brings with it on an almost daily basis.
Not to mention the legacy of Covid-19 on the nation's mental health as a whole.
The Importance of The Continuation of Treatment During Lockdown
From the first lockdown introduced last spring, we've all been afforded crash courses across various platforms which instantly put us in touch with loved ones, business ones, TV fitness ones and everyone else ones who benefit from a reliable internet connection.
In many ways we're incredibly fortunate that we live in a very technological age, where it's possible to still reach out and connect with people virtually. While not always the ideal conduit, nevertheless it's a crucial means by which to communicate and support those in need.
As always, the proof is in the pudding, so to speak.
One NHS Trust which has observed incremental gains in the arena of virtual consultations is South London and St George's Mental Health NHS Trust. Which has been acknowledged as being one of the biggest facilitators of video consultations amongst all mental health trusts here in the UK. Having performed in excess of 9,000 sessions with clients, courtesy of virtual platforms.
Dr Alison Hoskins Answers Our Questions About Virtual Consultations
With this very much in mind - and set against a backdrop of a third national lockdown having been recently imposed - we took this opportunity to talk to Dr Alison Hoskins about virtual consultations, to gain a better idea and understanding as to the crucial role it plays in providing far-reaching mental health services for those clients who need both continuity and reassurance during these challenging times.
Admittedly we as people are inherently social and naturally crave a more up close and personal style of social interaction, as opposed to physically distancing. Whilst in an ideal world nothing replaces being face-to-face with someone in the same room when delving into their psychological being, the fact software which offers an alternative contextual surround shouldn't be overlooked, should it?
Dr Hoskins: Undertaking therapy sessions remotely using one of the many available platforms is not new in the delivery of Mental Health services and has been used for some individuals who have been unable to access face to face sessions e.g. living remotely, needing sessions in a foreign language that is not available in their geographical area, difficulty with transport. What has changed is that during the Covid crisis it has become an essential way of delivering therapy for the majority of clients. In the main this has been a positive experience for therapists and clients and particularly when the IT side of it has run smoothly. Modern IT platforms such as Zoom have allowed a face to face interaction via a screen and many have reported experiencing it as though the person was in the room.
What would you say are the predominant differences between virtual and in-the-room interactions with clients in this particular setting? Do you find that service users are less inclined to open us as they would be in person, or find it more of a challenge - or possibly, uncomfortable - articulating themselves within these often-surreal screen parameters?
Dr Hoskins: In my opinion the predominant differences in these approaches from the therapist's point of view would be creating a 'safe space' for exploration when the person is in their own home and often with family members around and interruptions. The lack of non-verbal communication that can be detected can make an accurate interpretation of a person's conversation more challenging and it is also more difficult to explain things without being able to resort to drawing diagrams.
From the client's perspective there is likely to be variation in how receptive they are to remote sessions and the extent to which they allow themselves to explore painful issues when the therapist is not physically present to support them through this. Some client's refuse the offer of remote sessions or do not have the IT set up to do anything other than telephone sessions.
A lot of pre-existing apps which promote mindfulness - and appealing to those seeking self-help ways out of certain mental health issues - have experienced something of a renaissance during the pandemic. Very engaging and much-welcome virtual tools which actively encourage ways to improve sleep, reduce stress and manage anxiety via various tried and tested methods which can be practised in your own company and remotely. Do you think that the emergence of this sort of tech have helped in the transition from real time counselling and therapy to a more remote and virtual version, albeit on a far less individually targeted level?
Dr Hoskins: Self-help apps of all sorts have been used for several years and in particular relaxation and mindfulness training. These have always been a very useful adjunct to individual therapy as they help people to maintain their practice of techniques in between sessions. With the increase in IT solutions to most aspects of life, I think these Apps will continue to develop and gain in popularity. I think it unlikely that they will be seen as a substitute for individual therapy, because of the human interaction component that makes therapy particularly beneficial.
It's fair to say that the pandemic has fundamentally changed a lot of the aspects of all our lives, that we've long taken for granted. This has of course, spilled over into our professional and working lives to various notable extents too. Bearing this in mind, how do you see the future landscape in terms of remote and face to face post-COVID? Will the balance alter in some ways going forward, with perhaps greater emphasis placed on distance therapy sessions, via virtual counselling for clients?
Dr Hoskins: I think remote therapy will remain an option that is open to clients and may well be taken up by some who enjoy the convenience of not having to go out to a clinic setting or those who are very used to using IT platforms for all sorts of work and social meetings. However, I would expect that face-to-face treatment will resume as the treatment of choice for many clients as they believe that this will be easier for them to engage in and more effective in terms of their recovery.