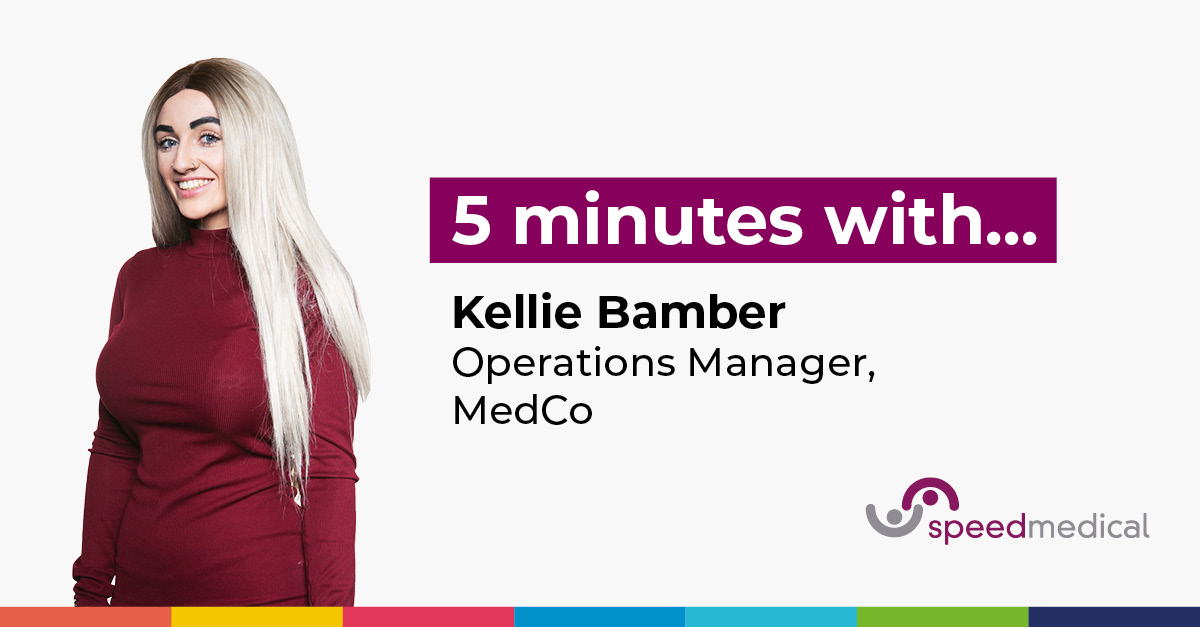 13 Aug 2020
5 minutes with...Kellie Bamber
What are your main responsibilities?
I'm continuously researching, investigating, testing and implementing procedure improvements and system developments to better the service and the efficiencies in both of my teams. I strongly believe in the benefits of developing my team members and am passionate about investment in coaching, personal development plans and providing consistent support. As such, I have two teams of highly engaged team members all striving for excellence in everything that they do!
What is your main objective within this role?
To continually review efficiencies and implement ideas that deliver improvements to our services. We are essentially one big team at Speed Medical and we all strive to be the best we can be, working collaboratively together and sharing practices that assist with our growth and ultimately providing great customer service. 
What jobs have you done prior to Speed Medical?
I have worked behind bars, I worked in promotion abroad for a season and also worked for a Locum agency in London, placing Orthopaedic surgeons in hospitals across the UK.
What has been the highlight of your career at Speed Medical over the years?
It has to be progressing from an 'out of hours' administrator 10 years ago through to now being in the position of Operations Manager of the MedCo and General Reporting teams. I was also lucky enough to be voted 'Employee of the Year' by staff in 2019! It meant so much to me that the award was voted for internally by the operations staff – that was a definite highlight!
What has been your greatest personal achievement?
Getting to where I am today. I honestly didn't know what I wanted to do after finishing education so to have progressed through Speed Medical to my current role is fantastic. Personally, to be engaged to my supportive, amazing fiancé, with my own home is a great achievement…although I don't know how he puts up with me! There is so much more for me to achieve so watch this space!
Where were you born/where did you grow up?
I was born in Preston and grew up in lovely Leyland.
Fun facts: 3 fun facts about you?
I have qualifications in special FX makeup
I had my 5 minutes of fame when I was featured in the newspaper for travelling to Los Angeles for Lemmy of Motorhead's funeral!
I have a few tattoos (that's an understatement – Ed)
Do you have any pets?
I have two French bulldogs - they're called Bruce and Peggy. They are complete polar opposites; Bruce is so laid back and Peggy is a wild one.
What makes you most proud of your team/company?
Both of my teams are amazing - they put their all in to everything they do to ensure the best customer service is provided every time. Nothing is a challenge when we all work together to ensure we resolve queries and progress files together, always done to the best of our ability. Speed Medical is a team that's unstoppable, we all work together to ensure we are the best we can be. We are one team with one vision and this reflects in the fantastic relationships we have with one another, our customers and our experts.
Do you have any hidden talents/party pieces?
I do a great Cher on the karaoke!
What's your favourite place in the world and why?
NYC – I got engaged there in 2018 and this is where our wedding will be taking place. I've got to add in Las Vegas too because who doesn't love to party!?
What's on your bucket list?
To travel across America and Canada maybe in an RV…a luxury RV!
Who are your fantasy dinner party guests – dead or alive?
David Bowie, Ru Paul and Steven Tyler! Imagine the stories they could tell you!
What are the best things in life?
Family, friends and travel.
Thanks to Kellie for sharing her 5 minutes with us - we've enjoyed learning about your work with the MedCo and General Reporting teams and getting to know all about you!