At Speed Medical we offer a comprehensive Physiotherapy Rehabilitation service, including Early Intervention and Post Medical Reporting services.
With thousands of Physiotherapy providers nationwide, our expert team has a wealth of experience in everything from RTA (Road Traffic Accident) and MSK (Musculoskeletal) cases to specific post-surgery rehabilitation.
Early intervention
Receiving rehabilitation treatment quickly after an accident is crucial to your client's successful recovery. That's why we offer Early Intervention Physiotherapy at the earliest convenience for your client.
"Early Intervention can ultimately reduce your case lifecycle. In fact, instructing Speed Medical may reduce your case length by up to 43%*."
Our effective triage process means we identify the extent of an individual's injuries quickly and begin treatment as soon as possible, allowing you to focus on the next steps in your case.
We understand maintaining control over your case and ensuring it progresses smoothly is one of your top priorities. That's why we provide delegated authority at any stage of the medical report, ensuring your client is seen and treated when they need it.
As client engagement is key to a successful recovery, we'll contact your client within 24 hours to conduct a clinically governed telephone triage assessment.
Post medical report Physiotherapy
When the need for Physiotherapy is identified within a medical report, we'll facilitate the treatment required at the earliest opportunity and convenience for your client.
If the medical report is provided by us, we'll highlight any recommendations for Physiotherapy – including costs – to save you time and money in sourcing an additional rehabilitation provider.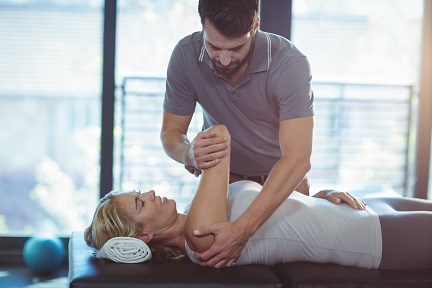 We understand all cases are unique and many require treatment from a specialist, such as Hand or Neuro Physiotherapy. Whatever your client's requirements, we'll provide the right expert to help them achieve optimum recovery.
Here for the entire journey
Our service offering doesn't stop at Physiotherapy. We facilitate all aspects of Further Rehabilitation, which can include anything from cosmetic camouflage to driving lessons in order to build back confidence.
*Average based on instructions from Jan 2018 – Jan 2019, only in cases where Speed Medical has provided the medical report. Results may differ depending on individual case circumstances.