With over 21 years' experience in handling Clinical/Medical Negligence Cases, Speed Medical offers a truly bespoke service dedicated to delivering quality medical reports.
Instructing an agency that you can trust allows your Case Handlers to focus on their core legal activities. We offer a full suite of solutions including:
Screening
Breach of Duty
Causation
Condition and Prognosis
Medical Records Collection and Pagination
Each case is assigned to a dedicated team member to manage from nomination to report meaning they are solely accountable for every aspect of that case and will be your single point of contact throughout.
We offer a choice of nominated experts after assessing their relevant experience, qualifications, conflict and ensuring service, giving you ultimate control over the most suitable expert for your case.
Cases are reviewed daily and updates can be provided as often as you'd like. We'll also facilitate direct contact with your instructed medical expert, so you'll benefit from being able to ask any questions you may have.
We keep the needs of your business in mind which is why we can offer favourable commercial terms.
Clinical Negligence Screening Reports
Our screening report process is simple.
Completed by our highly experienced qualified GPs, overseen and trained by our eminent panel member, the renowned Dr. Knott, we deliver a comprehensive screening report to identify any suboptimal care given.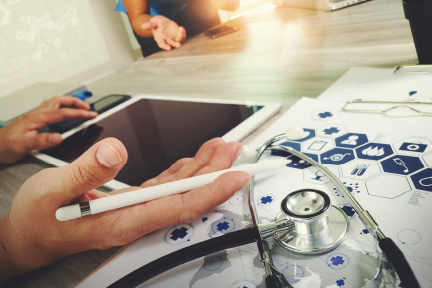 The Best Medical Experts
Our comprehensive panel of experts, covering all disciplines, has a nationwide reach and is made up of thousands of experts - over 700 of these are highly experienced in dealing with Clinical Negligence cases.
Subjected to our stringent recruitment on-boarding process and regular checks, we ensure only the highest calibre of specialist experts are selected for your case.
For each Clinical Negligence case, we supply a number of expert nominations along with their CVs to enable you to select the most suitable expert for your case.
Medical Records Collection & Pagination
Medical records collection and pagination can form a vital part of a Clinical Negligence case. We have built strong relationships with thousands of medical record providers allowing us to obtain records swiftly before utilising the experience of our extensive panel of pagination specialists.
Our proactive strategy ensures you'll be in receipt of the records securely and efficiently allowing you to progress the case further.
Read more about of Medical Records services here.
Clinical Governance & Quality
We understand the importance of clinical quality, especially in these sensitive cases.
A quality medical report is paramount to the success of your Clinical Negligence case. This is why we hold a strong Clinical Governance Framework at the heart of Speed Medical to ensure we deliver exceptional clinical quality every time.
You can read more about our approach to Clinical Governance and meet our Clinical Advisory Board here.