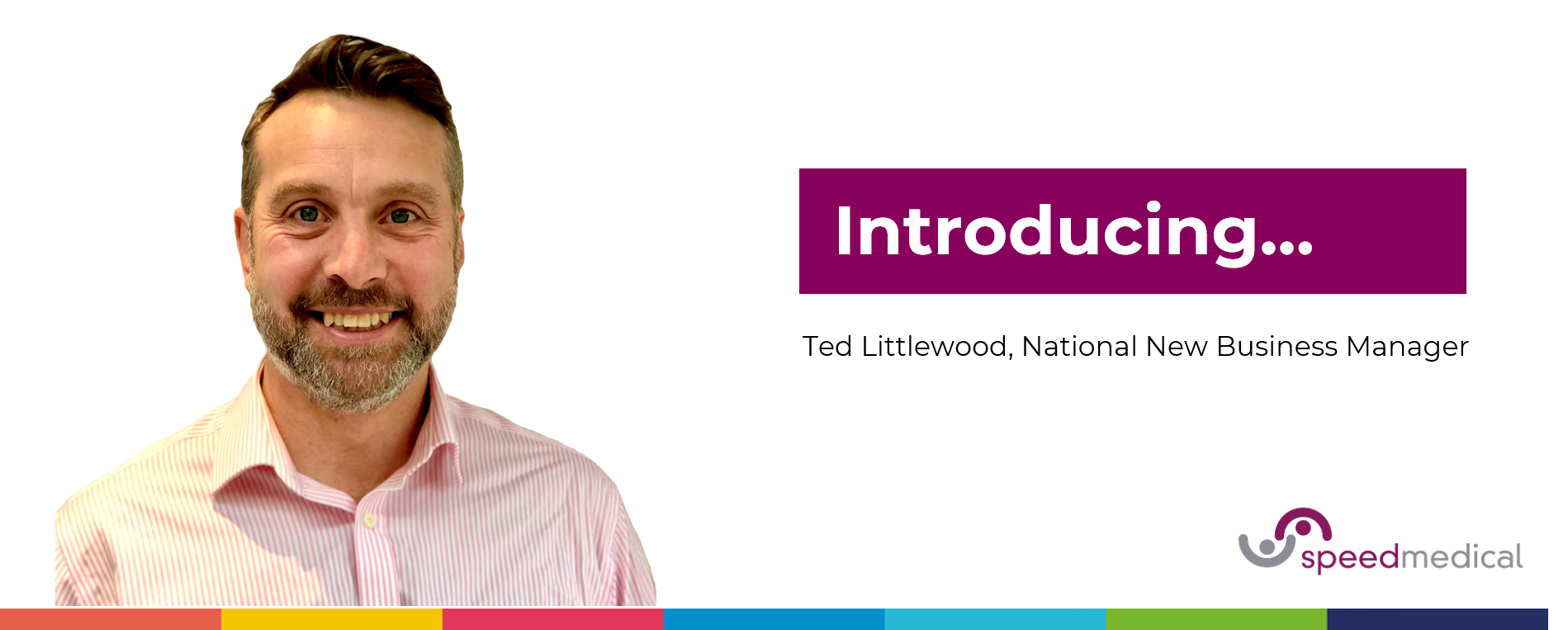 14 Dec 2020
Ted Littlewood Joins Formidable Sales Force
Having worked in the legal and insurance industry for over twenty years, Ted Littlewood brings with him a wealth of knowledge and experience to his role as National New Business Manager.
Starting out his working life in a law firm, Ted has undertaken a variety of roles within the legal, PI and insurance sectors.
Here Ted tells us about his career to date, what he is looking forward to most in his new role and gives us a glimpse into life outside of work.
What will be your role within Speed Medical be and what will you be responsible for?
My role is to reach out to clients, old and new, and bring in new business from them across all of Speed's different product and service offerings.
Tell us about your experience within the industry.
When I left University, I started working for a friend's dad who ran a catastrophic injury law firm in the city. I was his outdoor clerk running boxes to and from the courts; this role adapted as the law firm began getting lower value personal injury work and I was responsible for undertaking these types of cases.
From there I worked for an insurer as a PI claims handler, then on to Head of Operations at St David's Solicitors in Brentford where I stayed for six years. I then owned, with two colleagues, a claims intervention service and then moved to the medico legal reporting industry where I have spent the last seven years before joining Speed Medical.   
What has that experience taught you?
I bring a significant amount of industry knowledge, I have worked for and run personal injury teams and worked with and for insurers. I have also run my own business so understand the pressures that come with that. So I think the empathy that I can show to my clients, having probably been in most situations, that I can listen to their requirements and provide a solution which I am confident Speed can offer will meet those needs.
What excites you most within your new role?
Getting out there! I am really looking forward to talking to people and getting them on board with Speed. My induction was amazing, and I am so impressed with Speed Medical and what they have to offer law firms, they have given me the tools to undertake my role successfully.
What is Ted Littlewood going to bring to Speed Medical and our customers?
Warmth and a big smile.
I genuinely love people and getting to know them – seriously though it's the knowledge that I am a safe pair of hands and that I genuinely want to do the best for both Speed and my clients.
If our clients are winning and successful then we will be too, so I will be doing everything in my power to make that happen. It's a pretty simple mantra.
Tell us about life outside of work.
I grew up in Brighton, with my two older brothers. We were all rugby mad and spent most of our lives somewhere near a rugby pitch. I spent three years at Manchester University reading Classical Studies which was amazing, Manchester was a brilliant place to be in the late 90's. and then moved back to Brighton for a few years. I still miss the sea, although I haven't lived there for fifteen years.
I then met my amazing wife Jess and moved to London for seven years which I loved and where my gorgeous daughter Millie was born in 2009. We then decided we wanted a garden (houses with gardens are pretty expensive in London!) so moved out to Surrey. Soon after that, in 2011, my son Hector (Classics degree influenced) was born, and he now accompanies me on rugby pitches every weekend.
I have travelled around a bit. I spent 6 months living in Zimbabwe teaching in schools, honeymooned in Argentina for a month and have taken trips to Canada and India too.
Nowadays, I love cooking (and eating!) and nearly made it on to MasterChef, although that was a few years ago.